Activities
Discover the natural beauty of Lake Weyba with our on-site activities or make the most of Noosa's outstanding beaches, National Park, boutiques and fine dining, just a short drive away.
Snuggled behind the bustling coastal strip is the Noosa Hinterland; a patchwork of tranquil lakes and rivers, lush forests and pastures. Its quaint, historic villages guarded by striking volcanic formations that are shrouded in Aboriginal legends, offer stunning mountain top vistas of the hinterland and coast beyond. A landscape that invites exploration. Further afield but still within comfortable reach, you'll find the World Heritage listed Fraser Island, the coloured sands of Rainbow Beach, cruises on the Noosa River and, in season, the unforgettable experience of whale watching at Hervey Bay.
Let our friendly staff share their extensive local knowledge and organise some tours and activities for you.
Activities around Lake Weyba
Out and active on and about Lake Weyba For guests staying at Eumarella Shores, there is an amazing number of bike trails that can be accessed by riding directly from the accommodation – including the
Read More »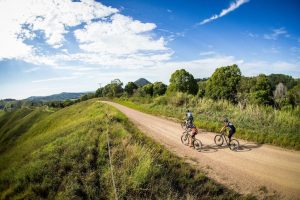 If you're an e-Bike rider, you could cover a lot of the Noosa Trail Network in a couple of days. If you're equipped with a standard mountain bike, don't expect an easy ride. Some trails
Read More »
Never heard of the Noosa Trail Network before? Don't worry, you're not alone. Work on the trails began in 2000 (and further upgrades are currently in the works), but this series of trails in the
Read More »
Welcome to Peregian Beach – a true village experience, just 10 minutes drive from Eumarella Shores. Here you will find a passionate, connected community that cares for its people and place. Bordered by Noosa National
Read More »
Noosa is the land of many things. Beautiful beaches, stunning national parks, charming coastal and hinterland villages, and more recently, beer. Out of Noosa's fertile grounds, a series of local breweries have sprouted, each with
Read More »